Welcome to Warmlock HVAC & Insulation Fasteners Manufacturing.
Opening Hours: Mon - Fri || 09:00 am - 06:00 pm

About Warmlock
Connect With
Warmlock
China Manufacturer Of
HVAC & Insulation Fasteners

.

Warmlock fasteners - a leading manufacturer of high quality insulation fastening metals, that are used widely in the installation of thermal, cold, and acoustic insulation projects or energy saving projects, involved in HVAC duct lining, shipbuilding and maintenance, piping or tanks in oil gas or petrochemical industries, construction, manufacturing setting, and other industrial applications, going with the materials like rock wool, mineral wool, glass wool, fiberglass needled felt or mat, ceramic wool or ceramic fiber blanket, cellular glass, phenolilc foam, etc.. And our fastening metals are also used a lot in the fabrication of removable or reusable insulation covers or jackets, expansion joints, gaskets, turbo covers, etc..

We have specialized in manufacturing of insulation pins with a range of lacing anchors, insulation hooks with or without pin, quilting pins, lacing hooks, self-locking washers, lacing washers, perforated base insulation hangers, self-adhesive insulation hangers, CD weld pins, cup-head weld pins, D rings, Rectangular rings etc.. wire lacing hooks with plates matched, etc..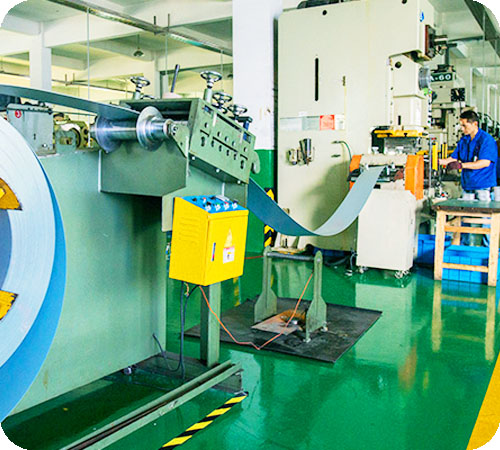 Starting from the mere manual equipments originally, to Warmlock's current automatic manufacturing lines, we have spent many days and nights and years on the equipments'transformation and renovation, through the process of customizing almost 60% of the parts of machines assembled, piece by piece, and testing by testing. With years of efforts and not giving up, we have finally achieved the current production capacity. The major driving force pushing us ahead is that we would stay competitive always with high quality and attractive pricing in the service of material supply to our clients as we have been through with them in the past 20 years in the industries of thermal, cold, and acoustic insulation for their projects installing or fabrication. And the only way to be there is to Improve Productivity, to Increase Capacity, and the unit time output turns to be the key. That led us devote our time, energies and investments to work out the automatic manufacturing lines.
We have made it.
Warmlock's strong control over raw materials, state of the automatic equipments, inspection and testing procedure, and our experience in this field for two decades, consistently get to ensure the high quality of Warmlock fasteners.
For quite some of insulation pins in the industries, the users find them easy to come loose out of the head bases when holding the pins to shake in cross directions, that is all about the manufacturing technique. Warmlock insulation pins perform excellent on this precision point.